Preparing for a Hurricane: Get Your Home Ready Now!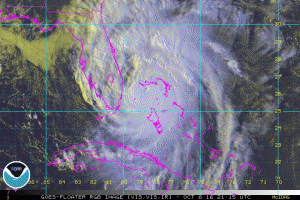 When a large storm is spinning off our coast, we know to start preparing for a hurricane to make sure our loved ones are safe. We fill up our gas tanks, put up the shutters, and ensure we have enough supplies to last through the aftermath. After those necessities are covered, run through this checklist and help prevent damage to your home from water intrusion.
Preparing for a Hurricane: Is Your Home Ready?
Like most Floridians, we know that preparing for a hurricane is all about hoping for the best and preparing for the worst. First and foremost, our concerns are for keeping our family safe during these natural disasters. This means developing and communicating an evacuation plan, collecting non-perishable food and bottled water, arranging for the care of our pets, and gathering any needed medications and emergency supplies.
When forecasters issue a hurricane warning, it is time to put up hurricane shutters or other defenses against flying debris. Preventing broken windows and glass doors is one of the best ways to protect the interior of your home.
Once that's done, consider tackling the following items. Doing so can help to keep out the massive amounts of wind-driven water that hurricanes can bring. Of course, you should only take on these projects in advance of the storm – you don't want to be climbing on your roof when the winds start blowing!
Preparing for a Hurricane: Preventing Water Intrusion
Check Your Roof for Loose Shingles
The shingles on your roof are the first line of defense against leaks in your home. To start, inspect your roof visually from the ground. If you see shingles that are sticking up or otherwise out of line, use some shingle adhesive to stick them back down against the roof deck. Even a small lifted area is enough for hurricane-strength winds to start a chain reaction, stripping off shingles one after another. As always, be sure to use a safety harness any time you are working on a roof or other raised structure.
Seal Any Gaps Around Windows or Doors
A big part of preparing for a hurricane is checking for any areas where water can get into your home. Turn off the lights and take a close look at the edges of your doors and windows. If you can see daylight coming through, then water can likely get through as well.
Detecting gaps at the points where the window or door closes against the frame may mean you need to replace the weather stripping or seals. If the gaps are between the frame and the wall, seal the area with caulk to prevent water from entering the interior of your home or seeping into the walls. Be sure to check both the interior and exterior surfaces of the frames and seal them from both sides.
Trim Trees and Bushes Near Your House
When preparing for a hurricane, take a look around your yard for anything that can be picked up by wind and thrown into your home. Check all trees and large bushes and remove any obviously weak or damaged sections that could become airborne missiles. Even if they don't break off, branches and limbs of trees growing near your home can be whipped around by wind. If they are near a window or door, they can break the glass and leave your home exposed to rain and wind.
However, trimming is best done at least several days before a storm threatens our area. This leaves enough time for local sanitation crews to remove the limbs. A pile of branches left sitting in front of your house during a storm is much more likely to be picked up by strong winds and cause damage.
Take Inventory of Your Belongings
If the contents of your home become damaged, you will have to provide your insurance company with some proof of what you lost. Simply holding on to your receipts or keeping track of your finances on a personal computer is not enough, as both can easily become damaged by water intrusion.
Instead, take photographs or video of your home and belongings. Go room to room, and be sure to open closets and cabinets and capture anything stored inside. If you are using a smart phone for these images, be sure to upload the files in case your phone becomes damaged, too.
Call Escarosa Cleaning and Restoration to Remove Water from Your Home
If water enters your home despite your best efforts at preparing for a hurricane, call the water extraction experts at Escarosa Cleaning and Restoration. Even a small amount of moisture left in your walls or furniture can lead to mold and other problems. Our highly-trained technicians use heavy duty professional equipment to get the water out fast and prevent a full-blown mold infestation.