Certified Member | Institute of Inspection Cleaning & Restoration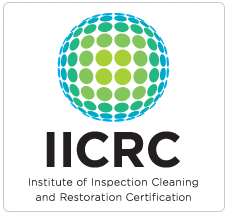 When searching for a service professional to tackle a project in your home, it pays to do your research first. Reading reviews and customer recommendations is a good place to start, but they may not tell the whole story. In many industries, earning a professional certification can be the best way for a company to prove that they know their stuff. While almost anyone can say that they are "experts in the field," earning a professional certification from an established organization proves it beyond a doubt.
At Escarosa Cleaning and restoration, we hold many certifications and undergo regular training on the latest techniques and equipment. We pride ourselves on earning and holding these professional certification credentials, including our recent re-certification by the Institute of Inspection Cleaning and Restoration Certification, or IICRC. Here are a few reasons why we think it is so important:
Professional Certification Protects Consumers
One of the requirements for earning IICRC professional certification is proving that we are ethical in our treatment of customers. We meet this standard every day by dealing with customers with honor and integrity. We guarantee customer satisfaction and follow Better Business Bureau guidelines when providing services to our consumers.
To maintain our professional certification with IICRC, our technicians undergo regular training. By keeping up-to-date on the training of our staff, we guarantee that we can tackle your cleaning or restoration project in a safe and effective manner. Our professional certification with the IICRC means that every technician we send out in the field meets these strict guidelines.
Many warranties on flooring, furniture, and other household items require that their products are serviced by technicians that hold professional certification. This ensures that your purchase will last for years to come. Should you ever have a problem, many manufacturers require proof that all services were rendered by a company that holds professional certification before honoring warranties.
Professional Certification Benefits Businesses
Maintaining our professional certification with the IICRC is also good for our business. By displaying the IICRC logo on our website and materials, customers know that we stand behind everything that we do. IICRC professional certification also confirms that we carry sufficient liability insurance to protect all parties in the unlikely event of an accident.
The IICRC leads the industry in the research and development of new standards, products and techniques. By advancing the science of cleaning and restoration services, the IICRC ensures that our technicians know the right way to tackle almost any problem.
Manufacturers of upholstered furniture, flooring, and fabrics work closely with the IICRC to develop better products. The IICRC also partners with industry experts, trade associations, insurance companies and public health professionals. Through these partnerships, they develop international standards and publish guides for carpet, upholstery and fabric cleaning, water damage restoration and mold remediation. By following these standards, we know that we are providing the best service possible to you, our valued customers.
Professional Certification Gives You Peace of Mind
By hiring Escarosa Cleaning and Restoration to handle your needs, you can rest assured that you will be treated fairly. We offer prompt and courteous service delivered by technicians held to the highest standards. We live and work in the Pensacola area, and we are proud of the reputation that we have built here over the last ten years.
Give us a call at (850) 432-6060 and let us show you how it feels to deal with a company that meets professional certification requirements.