Mold Removal Services Pensacola FL
Mold Removal Service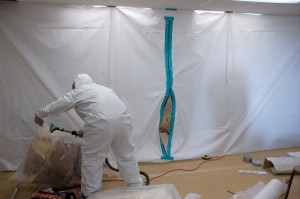 Our number one goal when performing mold removal services is to ensure that you have a safer and much cleaner indoor environment. If mold inspection has revealed mold growth in your home or place of business, Escarosa has the extensive experience and training to fix the problem.
If you need mold removed from your property, we will give you a quote estimating the cost of the work and a written copy of the sanitization and/or remediation protocol, which follows industry-standard guidelines for the work being performed.
The professionals at Escarosa Cleaning and Restoration are certified in mold remediation and insured to perform mold removal in Pensacola and throughout the state of Florida (FL MOLD REMEDIATOR LICENSE #MRSR 1287 / FL MOLD ASSESSOR LICENSE #MRSA 1303).
We are a team of highly skilled mold removal experts, dedicated and equipped to handle any situation. We offer prompt and dependable service within a 100-mile radius of Pensacola, FL for all of your mold and indoor air quality needs.
Residential Mold Removal
While it's always a good idea to compare prices when shopping for a product or service, it's important to realize that cheapest isn't always the best choice. You may come across people offering mold remediation services for less than Escarosa, but if they don't have the expertise, licensing and track record of success, it can cause you more harm than good.
The good news is that most instances of indoor mold are not an imminent health threat, and can be easily remedied by hiring a professional mold removal company.
That's not to say you should take it for granted or put off addressing it. Mold can spread quickly. If we discover that your home or business has a mold problem, you can rely on Escarosa Cleaning and Restoration to provide a solution in a timely manner.
The patented, hydrogen peroxide-based cleaning product we use leaves an extremely clean surface that we then treat with a microbial barrier on the studs, trusses, and floor joist before the builder completes the interior finishes. Our work is backed by a 50-year transferable warranty for microbial growth on treated surfaces in new construction. We also offer a 30-year warranty if we do the same service on an existing structure.
Commercial Mold Removal
A mold problem at your business presents a health threat to you and your employees. That's bad enough, and should be your number one reason for controlling mold. But it can also be a direct threat to your bottom line by interrupting productivity, and even expose you to legal liability.
If you think your property may have an issue with mold, call us today to schedule an appointment or to discuss any questions you may have. We're here to help return your business to the clean indoor environment you and your employees deserve.
No matter what the source is of your mold problem is, call Escarosa Cleaning and Restoration today at (850) 432-6060. We can schedule a cleaning that will help clear the air in your home.
---