Spring Cleaning Tips for Floors: Wood, Tile and Vinyl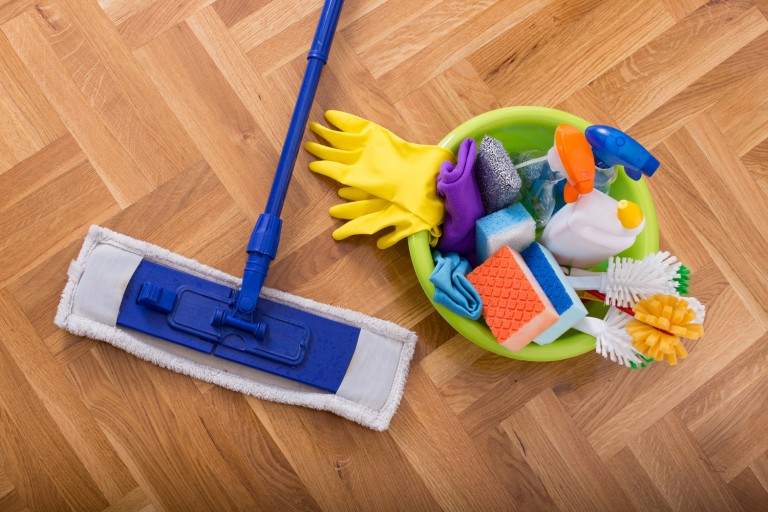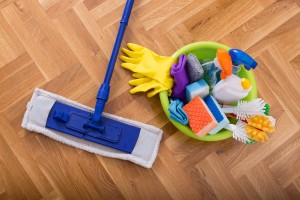 Spring: The time of renewal, the season of fresh starts. For generations, the warming days of spring have inspired people to open up their windows and clean out the spaces that had been shut against winter's cold. Of course, not everyone can spend hour after hour on spring cleaning projects. Our daily routines don't stop just because the season is changing. With busy calendars and growing responsibilities, there just isn't enough time to get everything done. To aid you in your quest for a clean home, we have put together these spring cleaning tips for caring for a variety of flooring materials.
Spring Cleaning Tips
A Clean Sweep
The first spring cleaning tip is also the most obvious one: Sweep your floors! For hard surfaces of all types, the first step is to remove as much loose dirt and dust as possible. When dust, dirt and grime accumulate, it can act like sandpaper every time you walk across your floor. Avoid this unnecessary wear and tear on your flooring by setting up a regular schedule for sweeping.
Vacuum All the Floors
We all know that carpeted floors need a good vacuuming every week or so. However, hard floors can benefit from being vacuumed as well. Dust, debris, pet dander, mold spores and almost anything you can imagine call build up in the spaces between boards or tiles. By using a good vacuum with powerful suction, these nooks and crannies can be emptied of unwanted materials.
Mopping Up
Sometimes increased traffic or larger spills require mopping your floors. Using the right cleaners and techniques is crucial to removing the dirt without harming your floors.
No matter what type of floor you have, be sure to follow our first two tips and remove as much loose dirt as possible before breaking out the mop. Otherwise, your mop will pick up the dirt and spread it everywhere you are trying to clean.
Pro Tip: Be sure to read the manufacturer's recommendations for your specific floor. Some companies will not honor guarantees if you use the wrong cleaner or tools!
Ceramic Tile – For general cleaning, most ceramic tile floors can be cleaned with warm water and a good rag or microfiber mop. For more heavily soiled tile floors, an occasional cleaning with a diluted, mild detergent will remove most spills.
Pro Tip: Avoid sponge mops on tile floors! They tend to push the dirty water into your grout lines, where it will settle and end up more difficult to remove. If you already have this problem, check out our Grout and Tile Cleaning services!
Hardwood Floors – Once you have swept and vacuumed, hardwood floors can benefit from an occasional mopping with a good cleaner. To protect your hardwood floors, use just enough to make your mop damp. Avoid soaking the floor and be sure to thoroughly dry your floors when you are done. Leaving your floors too damp or mopping too often can end up damaging the wood.
Pro Tip: Be sure to follow any manufacturer requirements to fix scratches or dents in hardwood floors before mopping! If a scratched finish gets wet from mopping or spills, the underlying wood can be severely damaged.
Vinyl Floors – Many homeowners opt for vinyl tile or laminate flooring because it is relatively inexpensive and can stand up to heavy use. However, it is not indestructible, and can benefit greatly from occasional mopping. While there are plenty of products available for purchase to clean vinyl flooring, there are a variety of home-made solutions that can be very economical.
Pro Tip: Avoid using ammonia, or ammonia-based products, to clean vinyl flooring. They can damage the surface and leave it cracked and dull.
When the Going Gets Tough…
Even the most enthusiastic DIY-er will eventually come up against a spring cleaning issue that is just too big to tackle on their own. When you find yourself in this situation, give the professionals at Escarosa Cleaning and Restoration a call. We are trained and certified to handle almost any cleaning challenge, no matter what season it is.