Are Rental Carpet Cleaning Machines Effective? - Escarosa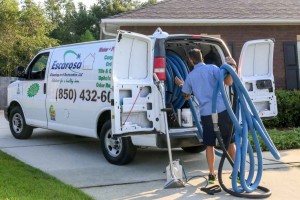 When your carpets start to look dirty or stained, you may be tempted to try and save a few dollars by renting a carpet cleaning machine and doing it yourself. At first this seems like an appealing solution, but there are pitfalls involved with tackling this job yourself.
Rental Carpet Cleaning Machines vs. Professional Carpet Cleaners
While we applaud anyone who puts in the time to properly maintain their carpets, there are several reasons to avoid renting a carpet cleaning machine from your local super market or home center. Here are a few of the main reasons to skip the rental and call a professional to get the job done right.
They're Not Professional Machines!
The stickers plastered onto a rental carpet cleaning machine often claim you will get "professional results." The truth is they are no where near as powerful as a professional set up.
The first major difference is the temperature of water that is used. Professional systems create water that is much hotter than a rental unit. This allows a professional carpet cleaner to get tough stains to release their hold on the carpet fibers so they can be lifted away. Additionally, the temperature is adjustable on most professional systems. This allows an experienced technician to use the right temperature to get the best results based upon the composition of your carpets.
The second major difference is the power of the suction that each system produces. Truck-mounted systems used by professionals are capable of producing much more suction compared to a portable rental unit. The weaker suction of rental units can leave soil and stains deep in your carpets where they can once again rise to the surface.
Rental units can also leave too much water and cleaner in your carpets. This leads to excessive drying times, high humidity levels in your home, and a crunchy or stiff feeling after your carpet eventually dries.
They Don't Come with a Professional!
Despite the fact that renting a carpet cleaning machine is advertised as being an easy solution, the biggest drawback is that it doesn't come with a professional carpet cleaner! A highly trained and experienced carpet cleaning professional knows how to tackle any number of cleaning issues. They know the right methods to use for different types of carpeting and how to address particular stains.
Just as important, a carpet cleaning technician will always stand behind their work. As a trained and certified professional, they follow manufacturers guidelines and recommendations, and will make sure the job is done properly. Most carpet manufacturers require service to be done by a certified technician and will not honor warrantees if something goes wrong with a rental unit.
Call the Professionals at Escarosa Cleaning and Restoration
The next time you are considering having your carpets cleaned, do yourself a favor and call a professional. We guarantee your satisfaction, and estimates are always free.