How to Protect Your Wood Flooring - Escarosa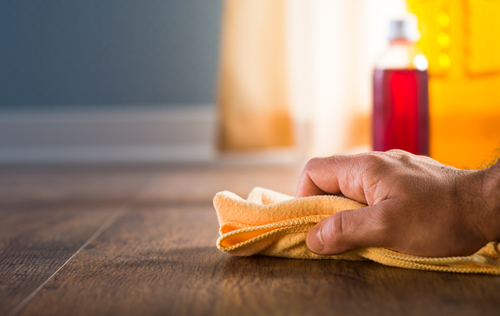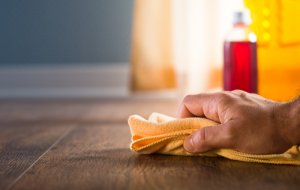 If you have wood flooring, you've probably wondered how best to care for it. And for a good reason: today, there's a lot of conflicting advice about how to protect wood floors. Some experts recommend you use vinegar, and others say water with light dish soap will do. What they all recommend, though, is frequent surface cleaning and having your wood floors professionally cleaned at least once a year.
With that in mind, here's our comprehensive guide to caring for your wood floors:
Surface Clean Regularly
Wood floors see a lot of traffic, so they require a lot of surface cleaning. Just like tile and grout cleaning, or carpet cleaning, you've got to be vigilant about picking up the small messes before they turn into large ones.
To extend the lifespan of your hardwood floors, sweep or vacuum them regularly – at least a few times a week, or once a day if you have pets or kids. Mop hardwood floors once a week and finish with a hardwood floor protectant and conditioner.
How to Deep Clean Hardwood Floors
Wood does not like water. This is rule number one when it comes to cleaning your floors. With this in mind, be sure to use a damp rag or mop rather than one that's soaking wet. Options like a spin mop will provide the right amount of moisture without soaking your floors. Here's a step-by-step guide to cleaning your floors:
Remove surface debris. Start by vacuuming or sweeping your floors to pick up surface debris.

Mix the cleaning solution. We recommend using a mixture of 4 cups of water and a few drops of Castile or dish soap. Mix this to create a slightly foamy mixture.

Mop the floor. Cover small sections at a time – working in a circular motion to pick up all dirt and grime.
Know Your Floors
For best results, you should learn about the type of flooring in your home or office, including the type of wood. You'll also want to consider the type of seal on the floor, and how recently it was applied. This information will allow you to provide the best possible care for your floors and ensure you're not inadvertently using ammonia or alkaline products that will be excessively abrasive.
When to Have Your Wood Flooring Professionally Cleaned
Now that you know how to DIY your wood floor cleaning, what should you know about having your floors professionally cleaned? Here are a few things to consider:
Professional cleaning is deep cleaning. Professional cleaning offers deep cleaning for your flooring, which is critical for promoting longevity and durability.

Professional cleaning cuts down on damage risk. While it's unlikely, it is possible to damage your hardwood floors when you clean them on your own. Professionals understand how to treat your unique flooring, without putting it at risk of warping, scratches, or more.

Longer lifespan. The average lifespan of a hardwood floor is 25 years, but you can stretch that even longer with routine floor cleaning. Additionally, regular professional cleaning decreases the likelihood of expensive board replacements and repair.
Contact Escarosa to Maintain Your Wood Flooring in Pensacola
When it's time to have your floor professionally cleaned, contact Escarosa Cleaning and Restoration. Our team of professional wood flooring experts will clean your flooring and restore it to its former glory. Contact us today to learn more.