Eco-Friendly or All-Natural Methods to Clean Tile & Grout - Escarosa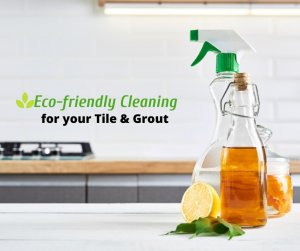 Tile can make a beautiful addition to your home, but when the grout that holds it in place starts to get dirty and dingy, it's time to take action. If you're like most homeowners, though, you're not sure how to restore your grout to its former glory. Don't worry – we've got a few effective eco-friendly methods to clean your tile and grout to share with you.
Let's dive in.
Why Cleaning Your Grout is so Important
Tile isn't cheap. It's an investment in the long-term beauty and functionality of your home. While tile is durable, it does require regular maintenance, mostly in the form of grout cleaning.
Here's why: tile and grout are both porous materials.
As you use the grout and tile floors in your bathroom, kitchen, or sunroom, tiny fragments of dirt and grime make their way into the small pores of the grout, dulling its once-brilliant shine and causing the material to break down faster than it otherwise would.
Fortunately, cleaning your tile and grout regularly prevents the buildup of dirt and grime, and helps keep your flooring in great shape.
How to Clean Your Grout
In an attempt to get rid of dirt and stains in the grout, lots of homeowners make a big mistake: they use harsh cleaners or brushes on the surface. Simple household substances, like bleach and ammonia, can damage tile and grout, while harsh steel bristles can scratch the surface and make more space for dirt and grime to lodge in the pores of the grout.
Instead, use this gentle formula to clean your home's grout:
Mix the ingredients in a spray bottle and spray it onto your grout. Let the formula sit for a few seconds, and then use a toothbrush or soft-bristle brush to scrub the stains off the grout. This formula is gentle enough to remove stains without stripping your tile.
Once you've cleaned your grout, you can protect it with a simple annual sealing.
Protect Your Investment With Professional Cleaning
While DIY grout cleaning will help you stay on top of dirt and grime, the best way to keep your home looking and feeling clean and germ-free is to invest in an annual professional cleaning for your tile & grout, as well.
This makes your DIY cleaning much easier and helps extend the lifespan of your tile. If the flooring in your home is very dirty or damaged, there are also options to restore the tile and grout to its original look with a professional Pensacola cleaner like Escarosa Cleaning & Restoration.
We specialize in gentle, all-natural cleaning that won't damage the surface of your tile, and long-lasting sealing and restoration services to help restore the beauty of your home and extend the time between professional cleanings.
Ready to learn more? Are you interested in our other services, like wood floor cleaning and carpet cleaning? Contact us today.