Get Ready for the Holidays with our Carpet Cleaning Special for December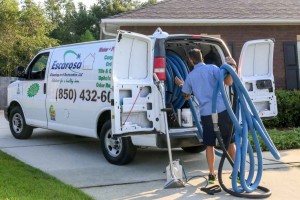 Celebrate the holidays with a freshly cleaned carpet! To help you prepare for holiday guests and family get-togethers, Escarosa Cleaning and Restoration is offering our Three-Room Carpet Cleaning Special for only $125 during the month of December!
Our thorough and attentive technicians are trained and certified to get the carpeting in your home as clean as possible. However, there are only so many openings available on our schedule, so be sure to call today to make sure you don't miss out on this deal!
What's Included in our Three-Room Carpet Cleaning Special:
Our Three-Room Carpet Cleaning Special includes all of the following services, performed by our own highly trained and certified carpet cleaning technicians:
Carpet Inspection and Consultation
Our Three-Room Carpet Cleaning Special begins with a thorough inspection by one of our trained and certified technicians. We take the time to closely look over your carpet, assess its overall condition, identify high-traffic areas and any stains or problem areas. We then will alert you to any issues we discover, discuss your options and answer any questions you may have.
Move and Protect Furniture
To access as much of your carpet as possible and protect your belongings, our technicians will move your furniture* and use blocks and pads to prevent contact between your furniture's base or legs and the carpeting. This prevents moisture from seeping into the furniture, and keeps any color from transferring from fabrics or stained wood into the carpet.
*NOTE: Our furniture moving service excludes moving, disconnecting or otherwise handling computers, stereo systems, large TVs, china cabinets, pianos and antique items. Additionally, any item deemed too large or fragile by Escarosa Cleaning and Restoration to safely move is excluded from this service.
Dry Soil Removal
Out technicians next use a commercial vacuum to remove dry soil from your carpet. Studies show that as much as 79% of the soil in carpeting is dry soil particulate. Taking this important step to remove dry soil before using any water or liquid cleaners results in a much cleaner carpet when we are done.
Pre-Treat Traffic Areas
After vacuuming out any dry soil, our technician will pre-treat the high-traffic areas of your carpet. This assists with breaking up tracked-in oil and pollution, as well as organic and non-organic soils that require emulsifying prior to removal.
Spot Removal
Careful and special attention is paid to identifying and pre-treating any existing spots on your carpet. Spots, stains and reasonable expectations for their removal are discussed on a per-item basis*. Common causes of spots that we treat include pet accidents, blood, ink, wax and red drinks such as wine.
*NOTE: Removal of certain spots may incur additional charges.
Hot Water Extraction
Escarosa then uses professional hot water extraction equipment recommended by carpet manufacturers and the IICRC to assure maximum soil removal and extended carpet life. Most carpet manufacturers recommend professionally cleaning carpet every 12 to 18 months to maintain the original warranty.
Fiber Rinse
After extraction, the technician will rinse your carpet with a quality fiber rinse. This allows for the maximum removal of chemicals and soils, leaving your carpet soft, clean and beautiful.
Grooming
Finally, our technician will use a professional carpet groomer to lift up the carpet fibers. This extra step aids in reducing the drying time and gives your carpet a nice, finished look.
Call Escarosa Cleaning and Restoration to Schedule Your Three-Room Carpet Cleaning Special Today!
As we mentioned, our Three-Room Carpet Cleaning Special is only available during the month of December, so call today to get on our schedule! And be sure to ask about our Odor Removal, Tile and Grout Cleaning, and Upholstery Cleaning services to ensure your home is ready for the holidays!