Follow These Tips to Stay Safe from In-Home Fires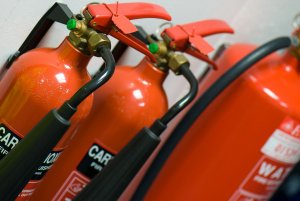 Home fires are the third most common cause of accidental deaths in the US. Even in the fortunate cases where everyone escapes unharmed, the effects of smoke and fire damage are devastating to homes and the belongings they contain.
During 2016, the rate of injuries and deaths due to in-home fires rose 6.2% over the previous year. Luckily, there are simple ways to protect your home and loved ones from a fire.
Prevent Home Fires in Your Kitchen
Our days are filled with tackling lengthy activities in the kitchen such as cooking, cleaning and getting prepared for the next day. On top of this, distractions and unforeseen issues tend to pop up with regularity. All of this can make it difficult to concentrate on performing these tasks safely. However, it is vital to pay close attention when working with appliances to prevent disaster.
The vast majority of kitchen fires start in unattended ovens and stoves. Leaving the kitchen for even a few short minutes can lead to overheating, especially when cooking with oil. Whether the phone is ringing or other distractions arise, it is important to give cooking your undivided attention. At the very least, be sure to turn off the burner if you must leave the room.
Heating and Electrical Precautions
Protecting your home from fires caused by heating and electrical systems requires a combination of attention to detail and routine maintenance. It's a good idea inspect and service your central heating and cooling systems yearly. The same goes for other electrical systems, such as water heaters or pool pumps. Be sure to check and replace filters and clear all vents of obstructions.
Check your portable appliances such as vacuums and toasters for frayed or worn out electrical cords whenever you use them. If you see any damage, do not plug in the appliance until it is replaced or repaired by an authorized repair center. To ensure your safety, never overload outlets with multiple appliances.
Space Heaters and Fireplaces
When you need a little extra heat during the winter months, many people use space heaters and fireplaces in their home. These are a great way to stay warm and cozy, however, it is important to remember they need a minimum of three feet of clear space on all sides to operate safely. Never place a portable heater close to curtains, linens or other household items that may ignite.
Similarly, you should always check the condition of your fireplace before lighting a fire. Be sure the flue is open and unobstructed, and clear out the remnants of previous fires from the grate. Have chimneys professionally cleaned and inspected regularly to avoid a dangerous buildup of soot.
Limit Risk in Your Laundry Room
Homeowners can also limit the risk of home fires by routinely performing three precautionary tasks in your laundry room:
Prevent Lint Buildup
The lint that accumulates in a household dryer is highly flammable. Lint screens are designed to catch most of the material, but it builds up in other areas as well. These include the inside of ducts, the space behind the dryer and exterior vents. Inspecting and cleaning these areas helps your dryer to run cooler and more efficiently, limiting the chance of lint catching fire in the venting system.
Replacing Ducts
In many homes, the hot air from a clothes dryer is vented outside through a flexible foil duct. Also called accordion ducts, they make installation easier in tight spaces. However, the ridges and tight turns slow down the air flow and create areas that collect lint. If your dryer has this type of duct, consider having it replaced with rigid metal ducting. The smooth walls and minimal turns help to limit the buildup of lint.
Maintain Machines
Manufacturers recommend annual checkups of your washer and dryer to make sure everything is working correctly. If you see signs of an issue before the annual maintenance, refer to your user manuals and make an appointment as soon as possible.
Accidents Happen!
At Escarosa Cleaning and Restoration we want everyone to be safe. However, we all know that accidents happen! If your home has suffered smoke or fire damage, call us! Our cleaning and odor removal specialists can restore your home and get you back to normal again.