Prevent Space Heater Fires | Escarosa Restoration Pensacola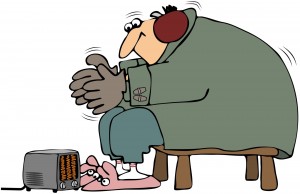 According to the National Fire Prevention Association (NFPA), space heaters are involved in 32 percent of all home fires. But 72 percent of all fire-related deaths in the home are attributed to space heaters. This implies that too many people are unaware of the potential dangers they pose.
If you use a space heater in your home, you can feel safe and warm by following these safety precautions:
If you are buying a space heater, get one that shows it has been tested by a nationally recognized company. One example is Underwriter's Laboratories Inc. (UL).
 Keep your heater at least three feet away from flammable materials, like drapes, furniture, and print material.
Keep your heater away from high-traffic areas where it can get bumped or knocked over.
Do not place heaters in enclosed areas, like under desks.
Do not have space heaters running in rooms that will not be continually occupied.
You are better off plugging your space heater directly into the wall. But if you must use an extension cord, be sure the cord is heavy duty and has a power rating as high as what is indicated on the heater.
Never cover the space heater's electrical cord with a rug. Your impulse to keep a room looking tidy will increase the risk for the electrical cord to overheat and potentially start a fire.
Heaters need to be monitored when they are on, so never leave them on when you are away or sleeping.
Always keep an eye on children and pets when a space heater is being used. Don't use them when small children (toddlers) are around, unless you feel confident that you will be extra vigilant about keeping an eye on them.
Never use an electric heater near a sink, in a bathroom, or your kitchen, since moist areas pose a fire and electrical shock risk.
Be sure that your space heater is in good working condition. If in doubt, have it checked out.
The U.S. Consumer Product Safety Commission estimates there are over 25,000 residential fires each year that are associated with space heaters. Using a space heater may be a viable way to save money by only heating one area of your home, but you need to be mindful of the potential dangers they can pose if not handled correctly.
Since you can't remove a fire risk with absolute certainty, be sure that you have a carbon monoxide detector and fire alarm in place.
We at Escarosa Cleaning and Restoration are your full service smoke damage, water damage and mold removal company. Please let us know if we can help!