January Tile and Grout Cleaning Special - Escarosa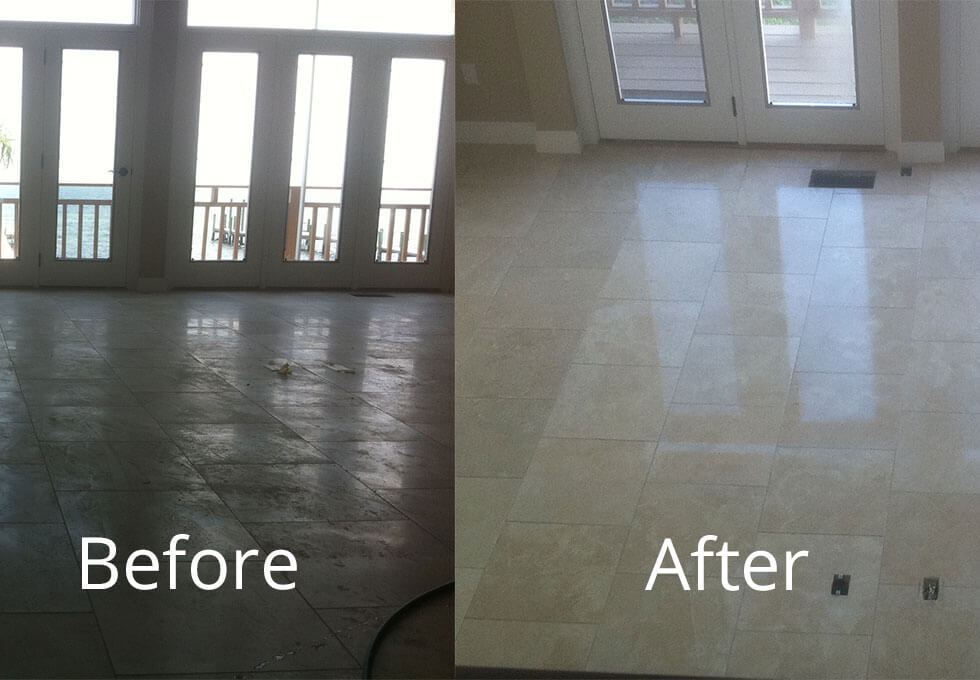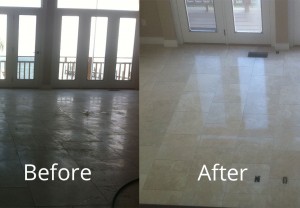 Get a fresh start to the New Year with professionally cleaned tile and grout! During the month of January, Escarosa Cleaning and Restoration is offering 30% off our Basic Tile and Grout Cleaning service. Our technicians can quickly blast away years of dirt, grime and buildup and give your floors that like-new look.
Here in Florida, we love our tile floors. They're practical, beautiful and normally very easy to maintain. Whether you have ceramic or porcelain tiles, keeping them clean is pretty simple: give them a daily sweep or vacuum to pick up dirt and debris, and once a week mop them with warm water that has a little vinegar added.
What is That Hazy Buildup on My Tile Floor?
If you use household cleaners when you mop your tile floors, however, over time you will notice a hazy buildup on the surface. With a traditional mop, it is all but impossible to remove all the cleaner residue from your tile floor. As it dries, the soap or detergents in the cleaner leave a thin layer covering the surface of your tiles.
This layer will actually work to trap more dirt and grime on your floors. Using more cleaner will generally not remove this residue. Rather than leaving your floors cleaner, every time you mop your tile floor with cleaners this buildup will increase.
Why Does My Grout Look Dingy?
Because the materials used in most grout are naturally porous, the grout lines between the tiles on your floor are usually sealed shortly after installation. This sealant can help to prevent everyday spills and grime from soaking into the grout and leaving it discolored.
Unfortunately, this sealant is not permanent. It will wear away over time and the grout will begin to soak up dirt, oil and other contaminants. Again, standard cleaners and mopping will not remove this material from your grout.
January 2017 Tile and Grout Cleaning Special
To get your tile floors really clean, Call Escarosa Cleaning and Restoration and take advantage of our January 2017 Tile and Grout Cleaning Special. All of the work is performed by our own highly trained technicians using professional products and equipment.
To remove the hazy buildup and soil from your tile floors, we use an alkaline detergent on the surface and grout lines. After allowing the detergent to penetrate the grout and break up surface residue we use a grout brush to get deep into the grout lines. Our technician will inspect the entire surface of your tile floor, and will pay special attention to any problem areas.
Next, we use high-pressure cleaning equipment to break down any remaining grime or residue. Our self-contained system uses water heated up to 250 degrees to remove stubborn stains and spots. All the cleaner and water is then removed with powerful suction. Your floors are left fresh, sanitized and looking like new.
Call Escarosa Cleaning and Restoration to Schedule Your Tile and Grout Cleaning Today!
Our Basic Tile and Grout Cleaning Special is only available during the month of January, so call today to reserve your spot on our schedule! When you make your appointment, be sure to ask about out Grout Sealing and Recoloring services to keep your floors looking their best throughout the New Year!