Can You Damage Your Carpet By Cleaning it Too Often? - Escarosa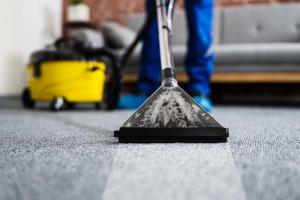 By now, you know that regular carpet cleaning is essential to maintaining your carpet fibers. Is it possible, though, to have too much of a good thing? In this post, we'll discuss the ins and outs of carpet cleaning and debunk a few common carpet cleaning myths.
Here's what you need to know:
Carpet Cleaning 101: How Often to Clean Carpets?
How often should you clean your carpets if you want to keep them in great shape? As a general rule, we recommend homeowners clean carpets at least once a year. In high-traffic areas, it may be wise to clean carpets more frequently.
Despite common belief, you cannot clean your carpets too frequently, and steam cleaning them often will not dry them out or break the carpet fibers. What will damage your rugs, however, is routine cleaning with improper methods.
Myth or Reality: Steam Cleaning Will Damage Your Carpet
While improper cleaning can damage your carpets, frequent hot water extraction will not. A good steam clean can extend the lifespan of your carpets. Here are a few benefits of regular steam clean and other carpet cleaning services:
Carpet cleaning makes your carpet healthier. Carpet shampooing and steam cleaning services help kill pathogens like mold and mildew in your carpet. In turn, they also decrease allergens and make your home or business a healthier place.

Steam cleaning keeps the carpet hygienic. By loosening ground-in dirt and debris, steam cleaning pulls up dirt and dust that vacuums won't remove.

Steam cleaning restores the color of carpets. If you have high-quality carpeting in your home, routine cleaning will help restore vibrant colors and remove dullness.

Cleaning maintains the carpet warranty. If you purchased your carpet new, having it cleaned annually maintains the manufacturer's warranty. This, in turn, ensures you can have the carpets replaced if needed.

Cleaning helps carpet fibers maintain their shape. When heavy furniture – like a couch or table – sits on a carpet for a long time, it leaves dents in the carpet fibers. Unfortunately, vacuuming alone isn't enough to remove those dents. The good news, however, is that regular steam cleaning will pull up carpet dents and help carpet fibers regain their fullness. Disclaimer: Keeping the fibers clean does help keep your carpet fibers standing up, but if the furniture is heavy and has been there a long time, it can damage both the carpet and the pad below it. In this case, we won't be able to fix the dent with a simple cleaning.
As you can see, routine cleaning has many benefits for your carpet. In addition to making your house beautiful, regular carpet cleaning helps extend the lifespan of one of your home's most valuable assets.
Hire Professional Carpet Cleaners to Maintain Your Carpet
No matter where you live, professional carpet cleaning is essential to maintain and preserve your carpet. While once a year is enough for most households, those with kids, pets, or allergies may need more regular cleaning.
Here at Escarosa Cleaning and Restoration, our team specializes in steam cleaning to restore beauty to your carpets. Ready to learn more or schedule your cleaning? Contact us today.